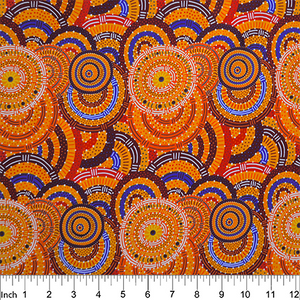 M&S Textiles
Women's Body Dreaming Mustard Australian Aboriginal fabric by Cindy Wallace
Regular price
$6.99
$0.00
Unit price
per
Womens Body Dreaming mustard Australian Aboriginal fabric by Cindy Wallace is a celebration of all things women: Orange, red and blue circles on a yellow background are a delight for the eye. The Australian Aboriginal fabric is printed on 100 % soft hand cotton that is 42" wide. It is ideally suited for quilting, garments, home decor and other fabric crafts.
Aboriginal women perform Awelye ceremonies to demonstrate respect to their country, including Dreamtime stories that belong to the ancestors. Awelye describes everything to do with women's ceremonies which includes body painting. The women decorate their bodies with dots, lines and circular segments.  

Cindy Wallace is from Santa Teresa, 80 km from Alice Springs.
I love your fabric line. The fabric I ordered is titled Womemn's body dreaming. How appropriate. Did not know that when ordered from my hosp bed!!! Cannot wait to see and feel it
---
I love your fabric line. The fabric I ordered is titled Womemn's body dreaming. How appropriate. Did not know that when ordered from my hosp bed!!! Cannot wait to see and feel it