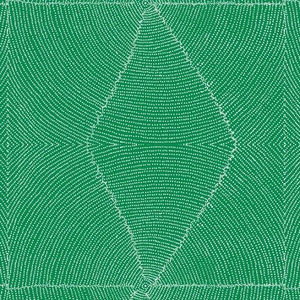 M&S Textiles
Plum Seeds green Australian Aboriginal fabric by Kathleen Pitjara
Regular price
$6.99
$0.00
Unit price
per
Plum Seeds Green Australian Aboriginal fabric by Kathleen Pitjara shows a cut-up Bush Plum, with the seeds neatly arranged around the center. This Australian Aboriginal fabric is ideally suited to quilting, home decor, garment sewing and  other crafty endeavors. Plum Seeds Green Australian Aboriginal Fabric is printed on 100 % high quality cotton from India. The fabric is 42" wide.
In the Dreamtime, winds blew from all directions to Utopia, carrying Bush Plum seeds of the ancestral land. To ensure continued fruiting of this plant in each season, the Aboriginal people pay homage to the spirit of the bush plum and by painting plum seeds as well as, by singing, dancing and storytelling in ceremonies. Aboriginal people make very tasty bread from the paste of plum seeds.
Kathleen Pitjara comes from Utopia, NT, about 270 km Northeast of Alice Springs.
---