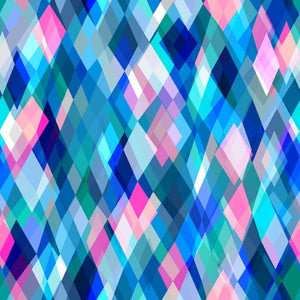 Fabrilish
Diamonds designed by Rachel Parker for Dashwood Studios, UK
Regular price
$8.99
Sale price
$19.99
Unit price
per
Diamonds is a impressionistic print in blues/turquoises and pinks, designed by Rachel Parker for Dashwood Studios, a small design Studio from the United Kingdom.

The rayon fabric is 55/56" wide (140cm) and is of superior quality! At about 5.5 oz per yard it is a medium weight and supremely soft. This sophisticated print on rayon is ideally suited for tops, dresses, jackets, pants or skirts.
The best news: IT DOES NOT SHRINK! I prewashed a piece of fabric on a warm delicate cycle and then put it in a low dryer, and it came out the same size it went in, and super soft with no need to touch up with an iron. The fabric feels like a hug, you will LOVE anything you make from it.
---