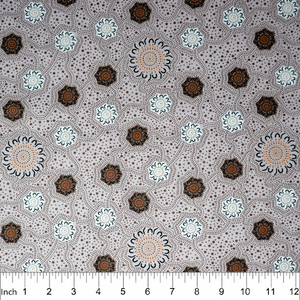 M&S Textiles
Caming Ground Ecru Australian Aboriginal Fabric by Charlie Egan
Regular price
$6.99
$0.00
Unit price
per
Caming Ground Australian Aboriginal fabric depicts a gathering of people (the U's) in large and small tents (the circles formed by dots) for a corroboree.
This Australian Aboriginal fabric is ideal for quilting, garments, home decor or totes/bags. It is printed in vibrant colors on 100 % high quality Indian Cotton with a soft hand. The Australian Aboriginal fabric is 42" wide.
All important discussions with the elders take place in the large tents, the smaller ones are for resting. Dotted lines are the paths for people's movements, the larger dots represent bush food and waterholes. 
The picture does not represent the base color quite correctly; it is a pinkish tan.
Wonderful !
I love Aboriginal fabrics and I enjoy getting them from you. Placed an order today and received a call from you letting me know that one item ordered was out of stock and that you were sending me a refund. You have a great business and have a good rapor with your customers. Thanks for the great fabric and personal attention! Sandra
---
Wonderful !
I love Aboriginal fabrics and I enjoy getting them from you. Placed an order today and received a call from you letting me know that one item ordered was out of stock and that you were sending me a refund. You have a great business and have a good rapor with your customers. Thanks for the great fabric and personal attention! Sandra