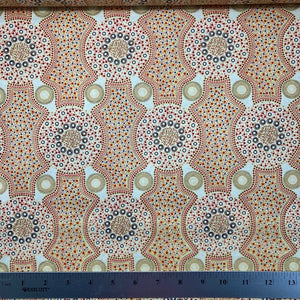 M&S Textiles
Bush Flowers ecru Australian Aboriginal fabric by Marlene Doolan
Regular price
$6.99
$0.00
Unit price
per
Bush Flowers  ecru Australian Aboriginal fabric is an intricate design depicting flowering bushes in vivid shades of orange, red, tan and yellow on an ecru background.
The Australian Aboriginal fabric is printed on 100 % soft hand cotton that is 42" wide. The repeat is 8" vertically (running along the selvedge) by 4.25" horizontally (going across from selvedge to selvedge). It is ideally suited for quilting, garments, home decor and other fabric crafts. 
Marlene Doolan was born at Santa Teresa, South east of Alice Springs, in 1970. She began painting early on in her life but made the move to acrylic on canvas in 1999.
Like many women from Santa Teresa, Marlene, depicts her traditional Dreamings using a style which has been called Keringke, it is characterised by fine dots, bright colours and attention to intricate detail.
---